MEMBER PROFILE # 4197

(Specialist)

Sancho

SD Syndicate

Name

Chris

Birthday

July 3

Location

San Diego, CA

Occupation

Student

Vehicle

2004 Toyota Celica GT

Exterior Color

Silver Streak Mica
MODIFICATIONS
THANKS
Blue BatMobile for sponsorship, Isaac for installing strut bar, Easy_C for being a great friend, Sakara for entertainment, DaBigTickett for the laughs. Everyone at Ecelica! You guys rock!
FORUM PROFILE
Member Since

07/01/2004 2:14 AM

Last Seen

06/07/2008 7:40 PM

Other Profiles

LinkedIn:

ChrisBlitzGenoc

Randomness

How many emo kids does it take to screw in a lightbulb?
None, they just sit in the dark and cry.
FORUM SIGNATURE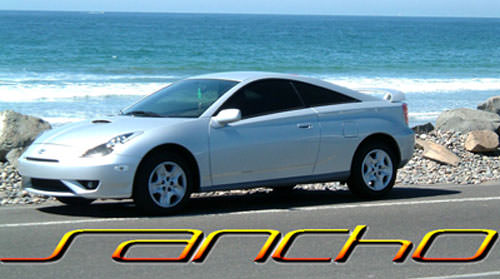 2004 Toyota Celica GT
***Blue Batmobile sponsored vehicle***
sanch078@csusm.edu